Catalog
Industrial Products
Allied Moulded Products, Inc. has the right enclosure for your application. We offer a full line of nonmetallic enclosure products, including small push-button-type enclosures up to freestanding cabinets, with sizes ranging from 6x6x4 inches up to 72x49x25 inches, plus accessories! Allied Moulded's range of styles, sizes, and factory modifications is sure to meet all your critical requirements for electronics protection in most harsh environments, indoors or outdoors.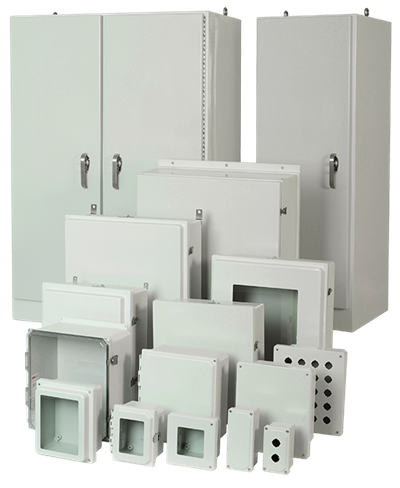 Residential Products
Allied Moulded Products, Inc. has the most complete line of nonmetallic electrical boxes in the industry. We pride ourselves in offering outlet boxes designed for the professional electrical contractor with extensive labor saving features in mind. Allied Moulded is a single source for hard and soft outlet boxes and adjustable boxes for new and old work applications where the wall substrate thickness is unknown. We also offer floor box assemblies, compact fluorescent luminaires, lampholders, structured cable/low voltage products, and more!