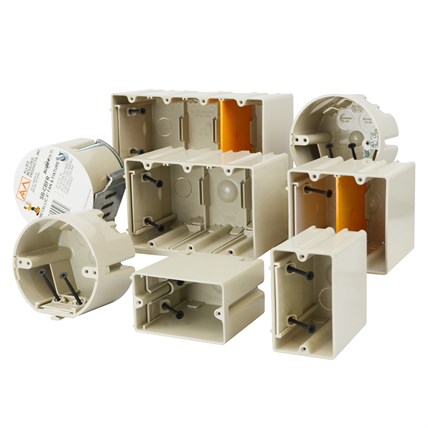 Allied Moulded's SLIDERBOX® family of adjustable wall boxes was designed for applications where the wall substrate thickness goes beyond the standard wallboard. With SLIDERBOX, there's no need to remove or relocate mounting screws to reposition the box.
Allied Moulded offers a complete line of SLIDERBOX products in both new and old work applications including:
- Single, Two, Three, and Four Gang Wall Boxes
- 4" Paddle Fan and Fixture Support Boxes
- 4" Round Outlet/Ceiling Boxes
- Low Voltage Partition
- Horizontal Mount Box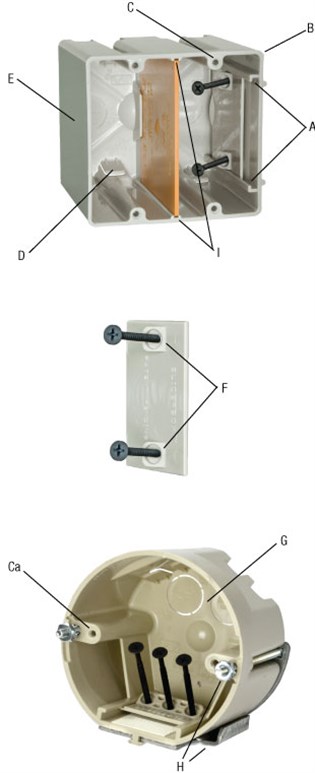 SLIDERBOX® Series Features & Benefits
(A) Internal rails guide slider plate for smooth mounting adjustability in wall substrates from 1/2" to 1 3/8" thick, and ceiling substrates from 1/2" to 1-5/32"
(B) Square corner wall box design and round exterior ceiling box profile allows easy wall cut-in (old work applications)
(C) Molded spline device holes for quick device screw installation in wall boxes
      a. Machine tapped threads for ceiling fixture support in round ceiling boxes
(D) Allied Moulded exclusive patented (U.S. Pat. #6365831 B1) molded in Speed Klamps™ in multi-gang and ceiling boxes
(E) Molded of engineering grades of nonmetallic thermoplastic
(F) Slider plate holds screws in ready position to enable contractor to mount boxes faster
(G) Patent #7,855,338 design allows for adjustments in new or old work installments
(H) Fan support product has steel bracket and mounting bolts for secure paddle fan mounting
(I) Multi-gang boxes consist of internal holding slots for LVP-2 low voltage partitions and dual voltage applications
SLIDERBOX® Installation Instructions
SLIDERBOX can be installed in a variety of applications in all sizes including one, two, three, and four gang electrical boxes. Below are our simple instructions to install one of our SLIDERBOX products ...