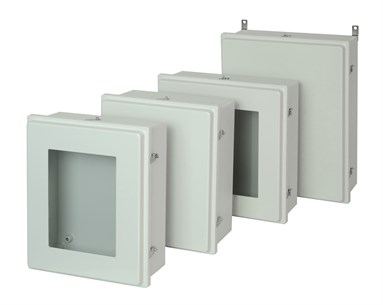 Control Series Enclosures
Control Series enclosures insulate and protect controls and
components against the toughest elements in the harshest
environments. Available in popular larger sizes and depths and
with standard stainless steel hinges and latches.
The larger Control Series offers standard features as well as
full-panel access and all usable panel space. In addition, the
standard grey cover is available with or without a full-length
polycarbonate viewing window. Other options include removable
aluminum hinged front panel and back panels.
Control Series Features & Benefits
• Molded ULTRAGUARD® fiberglass reinforced
polyester material construction for durability
• One-piece body construction provides added
dimensional stability
• Standards sizes from 24" x 20" x 9-3/4" to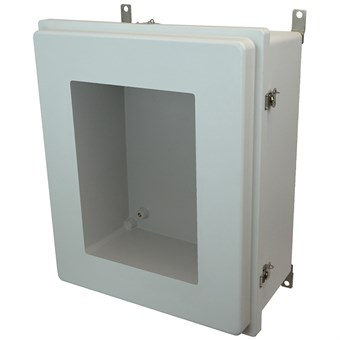 30" x 24" x 11-3/4"
• Formed-In-Place (FIP) polyurethane gasket system
encased in a continuous channel

• Raised cover for additional depth
• 316 series stainless steel hardware and
mounting feet
• Mounting panel inserts for optional back panel
• Optional Hinged Front Panel
• UV stabilized for outdoor use
• Non-corrosive
• Non-conductive
• Temperature-resistant
• Fire-resistant
• Rated NEMA 1, 2, 3, 3R, 4, 4X, 12, 13