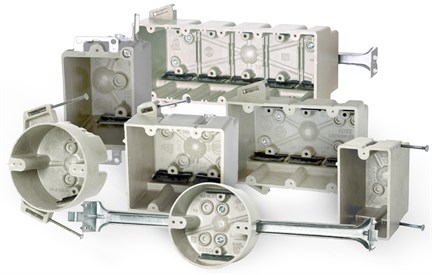 The fiberglassBOX™ switch and outlet boxes are molded of impact-resistant, high-strength fiberglass reinforced thermoset polyester material. The fiberglassBOX "Premier Series" line of products was created for the electrical contractor looking for nonmetallic outlet boxes with "hard box" characteristics. Allied Moulded's fiberglassBOX line offers many different unique features and benefits listed below.
fiberglassBOX™ Series Features & Benefits

(A) Offset ribs on box give positive stop for the proper wall
thickness
(B) Bright common nails or pierce-point screws fit securely in
specially designed supports and are angled for easy installation
(C) Strip resistant tapered and machine tapped device holes allow device
screw to be started by hand and speed installation time
with tension clutch screwdrivers
(D) Cubic inch capacity and conductor count clearly marked
and easy for contractor and inspector to locate and identify
(E) Proudly UL® listed
(F) Knockouts on fiberglass boxes are complete, reducing
drafts and easily removed with wire for no-tool installation
(G) Leveling ribs position face of box parallel to wall surface
(H) "Z" brackets are designed to securely hold box to wood or
steel studs; brackets also provide proper 1/4" or 1/2" offset
(I) 2-Hour Fire Rated clearly marked for easy inspector
identification
(J) Nonmetallic Speed "K" Klamps dependably secure wire in
box; should a knockout be inadvertently opened and not
used, the Speed "K" Klamp is considered sufficient closure
of the opening per UL®
Learn more about our Fire, Sound and Energy messages!