Vapor Seal - Air-Sealed Electrical Boxes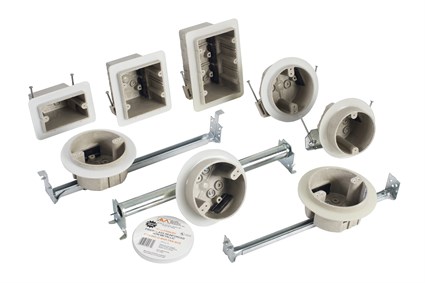 With innovative products designed for the electrical contractor, Allied offers a complete line of wall and ceiling boxes for use in energy efficient homes to aid in sealing the exterior walls and ceilings per construction methods outlined in 402.4 of the 2009 International Energy Conservation Code.
Nail-on Wall Boxes
Fan Support Boxes
3.5" and 4" Round Ceiling Boxes
New Work Ceiling Bar Mount Boxes
Single and Double Drywall Applications

Vapor Seal Series Features & Benefits

(A) Patented (U.S. Patent #6,908,003 B2) flexible polyurethane flange available for sealing box to air/vapor barrier. Flange products "V" are for single drywall and "V2" are for double drywall applications
(B) Bright common nails fit securely in specially designed supports and are angled for easy installation
(C) Tapered and machine tapped device holes allow device screw to be started by hand and speed installation time with high torque screwdrivers
(D) Cubic inch capacity clearly marked and easy for contractor and inspector to locate and identify
(E) Proudly UL® listed
(F) Knockouts on fiberglass boxes are complete, reducing drafts and easily removed with wire for no-tool installation
(G) Leveling ribs position face of box parallel to wall surface
(H) 2-Hour Fire Rated clearly marked for easy inspector identification
(I) Nonmetallic Speed "K" Klamps™ dependably secure wire in box
RESIDENTIAL BUILDING ENERGY CODE ADOPTION STATUS
The current and projected status of energy codes and standards adoption is shown in the map below. Status is displayed for both residential and commercial buildings for U.S. States and territories. Click on the image below to check the status of your state's energy code adoption.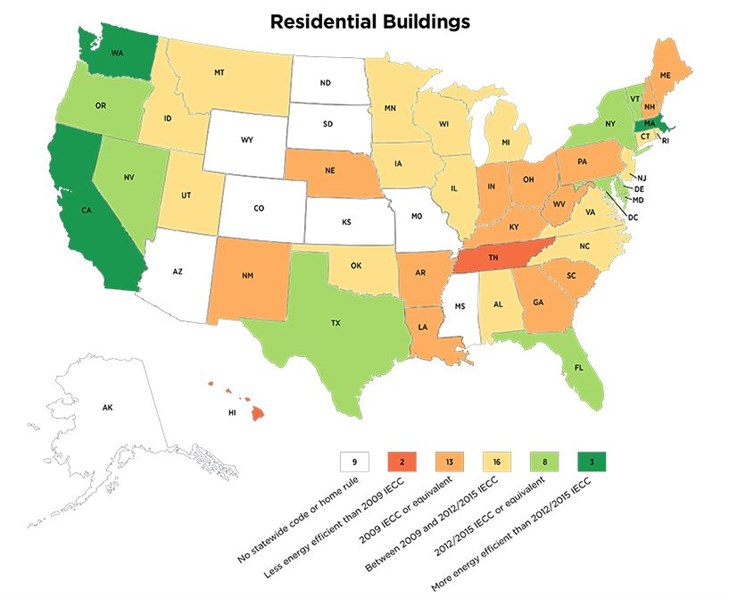 Learn more about our Fire, Sound and Energy messages!