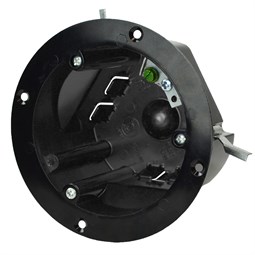 Allied Moulded flexBOX® switch and outlet boxes are molded of engineering grades of nonmetallic thermoplastic materials. The flexBOX line of products was created for the electrical contractor looking for nonmetallic outlet boxes with "soft box" characteristics. Allied Moulded's flexBOX line offers many different advantages along side unique features and benefits.
Our newest flexBOX products are the 4-inch round old work outlet boxes – PC244OW and PC244OWG (with ground strap, shown on the right).
These products meet the requirements of the exceptions in Sections 314.27 (A1) and 314.27 (D) of the NEC. They are ideal for use in mounting utilization equipment weighing 6 pounds or less. Examples of wall and ceiling applications are shown below.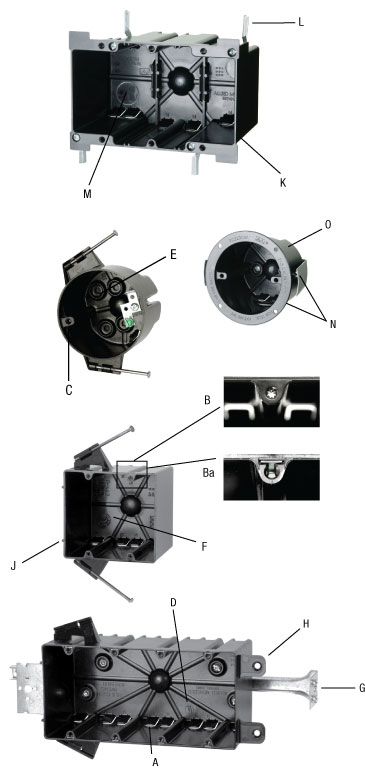 flexBOX® Series Features & Benefits
(A) Patented #6,365,831 B1 integral Speed Klamps™
(B) Strip resistant molded spline device holes for wall boxes
      a. Optional Quick Thread™ device holes
(C) Strip resistant machine tapped device holes (round boxes) for secure fixture installation
(D) Proudly UL® listed
(E) 2-Hour Fire Rated clearly marked for easy inspector identification
(F) Large cubic inch capacity clearly marked and easy for contractor and inspector to locate and identify
(G) Stabilizing bracket for maximum support and flush face alignment of wall boxes
(H) Molded wallboard tabs for securing multi-gang boxes on the opposite end of the framing stud
(I) Wall box face brackets for steel or wood stud construction
(J) Offset gauge marks on box give positive stop for the proper wall thickness
(K) Square corner design for easy wall cut-in
(L) Steel wing brackets for secure box mounting
(M) 1/2" knockouts in multi-gang old work boxes for use with wire/conduit connectors
(N) Molded flange and steel snap bracket for secure old work box installation
(O) Round exterior for easy wall cut-in